PRESS RELEASE

Stockholm
January
22
th
2008


Stefan Lindblad, Swedish illustrator & artist, is today presented world wide by Corel Corporation, in regard to the world wide release of the new CorelDRAW Graphic Suite X4
Corel Corporation is a leading developer of graphics, productivity and digital media software.
The illustrations by
Stefan Lindblad will, as an effect of this be viewed in 75 countries world wide
Today, January 22
th
, is the world wide release of the new CorelDRAW Graphic Suite X4

In the brand new version of CorelDRAW Graphic Suite X4 illustrations by Stefan Lindblad will be highlighted directly within the program via the "Gallery of the Welcome screen", with a direct link to his website. CorelDRAW Graphic Suite X4 is a leading illustration- and layout software. Stefan Lindblad have been selected together with other international illustrators and graphic artists, to work as an inspiration to other users of the CorelDRAW Graphic Suite X4.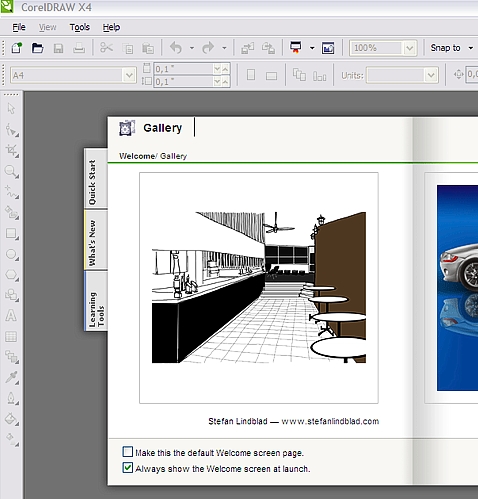 Stefan Lindblad live and work from Stockholm, Sweden as full-time freelance illustrator and artist, and are doing illustrations for a wide variety of magazines and ad agency´s, and other company´s . Stefan Lindblad is himself a user of the CorelDRAW Graphic Suite X4, CorelDRAW & Corel Photo-Paint, in his work as an illustrator & artist.



Gérard Mètraillier, Product Manager at Corel says
:
"With the introduction of CorelDRAW Graphics Suite X4, we are thrilled to showcase the amazing work done by users around the world" said Gérard Métrailler, Director of Product Management, Graphics at Corel Corporation. "Being able to highlight the fantastic creations of Stefan Lindblad and others will be a great source of inspiration for users of CorelDRAW Graphics Suite X4. And with direct links to additional designs on the CorelDRAW.com community site, we are very happy to showcase the end result created by graphic designers around the world."
Contact information
Stefan Lindblad

www.stefanlindblad.com
Telephone: 0708-80 86 46