I have been a user of Open Office for quite some time now. I first started with Star Office. I was given a CD with Star Office x.0 something to go with a CD with Solaris OS, from a Swedish guy working for Sun Microsystems at a fair in Stockholm, SWEDEN. This must have been around 1999 or something. There have been many times when I have tested
Corel Word Perfect
, as well as Microsoft Word of course.
But in a way I have always prefered Corel Word Perfect.
What I really like with Corel Word Perfect is the two facing pages, great when writing, which is something Openoffice doesnt have in version 2.4 I currently use, but now looks to get in version 3.0. What I miss with Wordperfect today is the icon set´s.
Dont get me wrong, the
Corel Wordperfect
software is absolutly great, its just the icon sets looks a bit like they did in the last version, well they are as I understand it. Corel should have made new icons in my opinion, to give a new modern look and feel. As a former Advisory Council member for the new CorelDRAW Graphic Suite X4, I think its okey to say that the issue regarding the icons, was an issue that was discussed very much, and the decision by the Corel team changing the icon set was a really good decision. I know many still like the icons in the CGS X3 version, as do I, but the new icons in CGS X4 is a real hit in my opinion.
All though I prefer
Corel Word Perfect
, of more reasons than the facing pages, I have all the same come to use the OpenOffice suite as my main Office suite, after all its free and works totally okey.
And I like Openoffice. But who knows, maybe I start using Corel Word Perfect in the future, but for the moment I will continue with Oo, after all its a great office suite.If you havent tried CWP X4 yet, then
here is a review on Corel Wordperfect X4 at CNET>>

Here is a
trial version at Corel´s website >>
I have always thought the Openoffice icon set to be to boxy. To square and to un-artistic. Not inspriring to look at. And for me its important to have an icon set that help give a nice tuch and feel while working. Fun though is that Openoffice offers a set of icon sets to change in to. I just changed myself into the "Industrial" icon set.
Its nice with a change. And the "Industrial" icon set is actually not that bad at all.
Being foremost an illustrator, artist as well as doing graphic design, I of course think icons are very important. Its so much more important than one might first believe, its not only eye candy. It sets a tone. But I wont go into that to much here, maybe next time. Here are some icon sets inside Openoffice that you can choose from already today. If you have at least version 2.4 that is. The next coming stable Oo version is 3.0, but that hasnt arrived yet, while I am writing this. It seems to be heading our way in September 2008. In this image of the Open office options dialog, I have marked how you change your icon set, if you feel to change that is.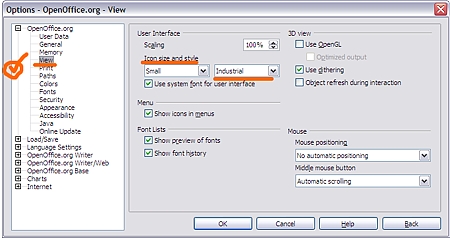 Here are a few websites about the icon sets in OpenOffice are:
1 -Openoffice Ninja >>

2 - OpenOffice Ninja (2) >>
3 - Openoffice forum >>
Have fun, and if you like to download the absolutly free
Openoffice suite, do so here >>
Stefan Lindblad
Illustrator & artist