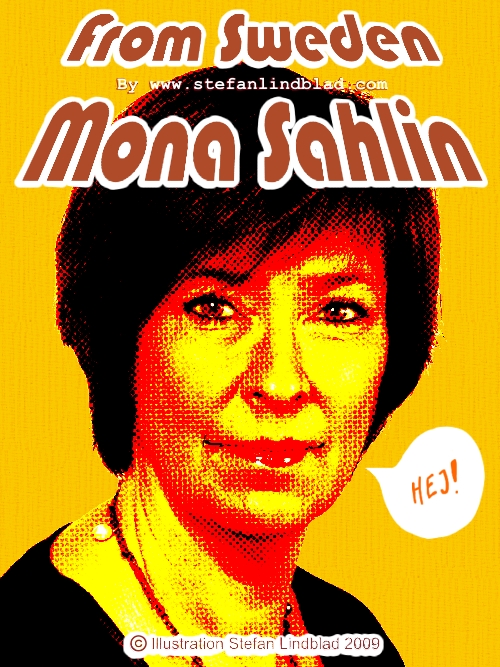 Illustration copyright Stefan Lindblad 2009
In Corel Photo-Paint X4 there are several effect filters one can use. Halftone being one. But one other nice thing is the Texture>Canvas filters. If you choose "other" in the Texture>Canvas dialog, you can add any filter you have created yourself, or the preset ones that comes with the program. All though Halftone in effects is okey to use, I like to have even more control over the halftone.
So by using the Texture>Canvas approach I make my own halftone texture filter effects, which I apply to my illustrations. In this illustration you can see it on the human face, and the background. On the background I added a preset canvas texture. One other thing is the outline to text objects in Photo-Paint X4. It could be quicker to do, but it really just take 4 steps in 3 seconds. Not more. So what the heck, how lazy can we be these days if we think that takes a long time to do. As long as you know exactly how you like to have it. As long as you use the short cut keys on the keyboard. Its your own custom made stuff that takes time to make. The artistic stuff.
In this illustration I used the Lens filters in the Object Docker, such as Contrast Enhancement, Add Noise and Posterize Lens filters. And of course the Merge Mode: add, subtract and Hard Light effects. I used two different custom made textures of my own Halftones for the face. On the text with added outlines, I used the 3D perspective effect. To add outline on text you select the text object, ctrl+m, press P, hoover over and choose outline width and then right click and choose brushstrokes>outline.
I post this illustration for this reason, to give a little tip on the effects we can add to illustrations & graphics using Corel Photo-Paint X4.
So who is Mona Sahlin? She is the former Swedish vice Prime Minister.
Have fun!
Stefan Lindblad
Illustrator & artist