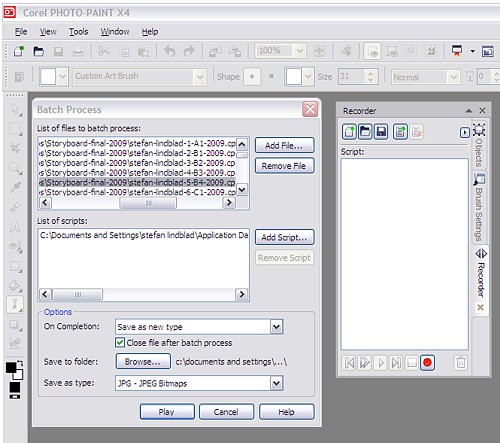 I have a love affair with Corel Photo-Paints batch process and script recorder. Seriously.
Many new users of a program dont know, for obvious reasons, about all that is hidden in a Program like Corel Photo-Paint X4. (CorelDRAW Graphics Suite). I remember all the illustration assignments, with multiple images I have made, and which I have had to convert from .cdr or .cpt file formats, to jpeg file format. If I had known back then I would seriously had saved a half of a days work, in just doing the convertion.
In short, learn about the script Recorder in Corel Photo-Paint X4, and how you can use the Batch process to speed up your work. The recorder in Photo-Paint X4 can be found via Window>Dockers>Recorder, or Ctrl+F3.
I came to think about this fact again, and just had to tip you about it, now when I have myself just finished a storyboard for a 20 minutes short movie, with more than 70 illustrations. With all the illustrations that makes the storyboard, which all had to be converted to jpeg. Half a days work took me less than 3 minutes. Increadible but true.
Explore and have fun.
Stefan Lindblad
illustrator & artist