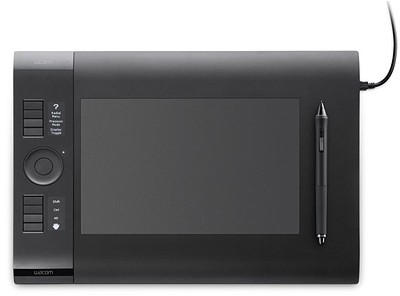 Yesterday I saw and tested a digital illustrator & artist's wet dream -
Wacom Intuos4.
Everything I previously
wrote on the subject of Wacom tablets
is still true and valid, and now even more. Yesterday, March 25, I was at the Munchen Brewery in Stockholm
(Munchenbryggeriet), on a Wacom event, the official release of the new tablet Wacom Intuos4, partly because I was personally asked to participate, exibit and so I contributed and exhibited a (bitmap) illustration. 70 x 100 cm printed on a art paper. An illustration, painting which I designed and painted entirely digitally with my Wacom Intuos3 tablet, and the program
Corel Photo-Paint X4
(
CorelDRAW Graphics Suite X4
) over the weekend. And especially for this event/release. The other illustrator, Concept Artist John Wallin Liberto, who have made concept art for the Harry Potter movies, painted live for the audience using the new Wacom Intuos4 XL. As well as exibiting a digital painting, which I did too. An exquisite painting he's done in Photoshop, a concept art image for a movie.
You can buy the Wacom pen tablet via my webshop here >
Guido Möller talking at the Wacom Intuos4 release event
Guido Möller
, Wacom Europe's product manager for professional products, held a presentation about the product. And a ERGONOMIST gave a presentation, important one, which in itself is a selling point to use the Wacom drawing tablets instead of a mouse. But everything in moderation as her insightfully noted. I was also enlightened that in the French version of Photoshop, the Magic Wand Tool is called "Le Baguette Magic". And we were told it was actually true. :-) But thats another story.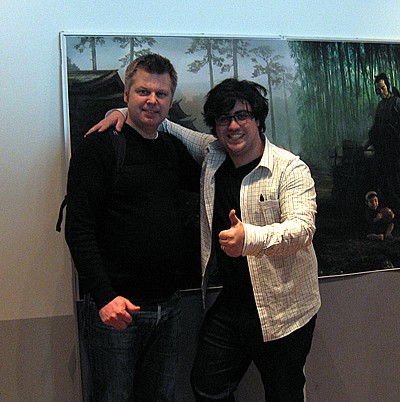 Stefan Lindblad & John Wallin Liberto, infront of Johns work
And as mentioned
John Wallin Liberto
, who closed the evening.
As an artist & illustrator, of course I can feel how I on a good day can go into a meditativt state of mind while working. Which I could feel quite strongly this evening as well, when I saw how John painted his work live infront of the audience. All was quiet at times, in the even
t hall, and it was not just me who enjoyed what we saw painted up before our eyes, on a big screen with the projector's help through Johns computer.





























Stefan Lindblad, infront of my own digital work at the event
What the new Wacom Intuos4 adds is a whole lot of very smart functions and settings. The Wacom developers have really made an excellent job. Shortcut lovers will get a heaven of opportunities, however, the first immediate feeling I got was the Wacom tablet drawing surface, the structure, the over all feeling. I told John Wallin how I sometimes put special art surfaced paper on the Wacom tabl
et itself, and draw on that paper, the Intuos3 that is, to get the friction you get with hand movements you get with real paper. Which is important for me,

when I am drawing and painting. It turned out he did the same. Both the nib´s movements over the paper structure is important, yes, but also and equally important to me, is how your hand glides over the surface of a sheet of paper or a linnen canvas. The material on the new Wacom Intuos4s drawing area is simply exquisite. It feels "real." It is precisely this natural feeling of drawing and painting on paper or linen canvas I feel now. This, together with all the different pen tips make this Wacom Intuos4 to a real "Kick Ass" product. Sure I was personally invited to this event from the Swedish Wacom representatives and exhibited my own work on the event/release, but I am really honest when I write that Wacom really Rock! with their drawing tablets, and this new Wacom Intuos4 in particular. And the thing is that it is incredibly difficult not to like this product.




Tech specs in selection

.


2048 levels of pressure sensitivity in contrast to previous 1024, that means a lot actually when you draw and paint digitally. It was good already with Intuos3 and its 1024 levels, now it is just so much better, and much more fun.




Right & left handed will love it. Simply turn the Wacom tablet 180 degrees, and replace the usb cable outlet, to the other side. And jippii you have as a right or left handed buttons all on the correct side.


The Surface itself, drawing area, for the exquisite feeling of friction between the hand and tablet drawing area.



General specifications Intuos4 Tablet:



Resolution 5,080 lpi
Pressure levels 2,048
Accuracy (pen) +/- 0.25 mm (0.010 in)
Accuracy (lens cursor) +/- 0.15 mm (0.006 in)
Tilt range (all pens) +/- 60 degrees (+/- 50 degrees on Intuos4 S tablets)
Reading height 10 mm (0.39 in)
Maximum report rate 200 points per second
Interface USB 1.1 to USB mini-B (Intuos4 S, M and L tablet models); USB 1.1 (Intuos4 XL)
Cable length 2.5 m (8.2 ft), detachable on S, M and L tablet models
Power requirements DC 5V, less than 300 mA, from primary USB port or powered USB hub


Stefan Lindblad
Illustrator & artist