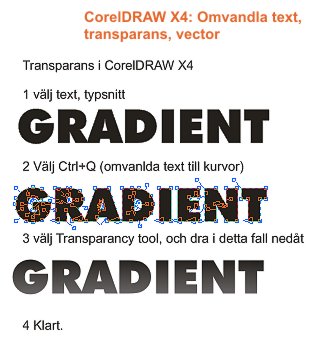 I once got the question on a Swedish Graphic & illustration forum, asking how to make a text into a vector object and with a transparancy fading out. This is a very simple and fast task to do in CorelDRAW. Here is a picture where I show how I did it. I used CorelDRAW X4. Sorry for the Swedish language on the picture sample.
It says:
Choose typ/ font
Choose Ctrl+Q (convert text to curve)
Choose transparancy tool, an in this case drag handle downwards
Finished!

Hope you enjoy it,
Stefan Lindblad
Illustrator & artist